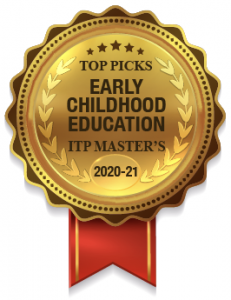 Study after study after study has shown that investing in quality early childhood education delivers massive benefits to not only the children that get a chance to learn and grow in preschool programs, but to society as a whole. A 2018 Harvard meta-study examined 22 peer reviewed investigations conducted between 1960 and 2016 and found that children who attended high-quality ECE programs were more likely to graduate high school, less likely to need special education assistance, and less likely to be held back a grade at any point in their education.
Multiple studies, including one performed by the Georgetown University Center for Research on Children in the United States, point to benefits in cognitive development for kids that go through pre-K programs, while other studies actually go so far as to identify links between preschool and a lower likelihood for criminal activity later in life.
The evidence is clear, and the writing is on the wall – the investments we make in early childhood education now will pay dividends for a lifetime. State education departments, local school districts and even the federal government are all joining the movement to ensure every kid in America has access to quality pre-K programs. That's leading to a surge in hiring for early childhood educators and early childhood special education teachers, with more jobs becoming available in both categories than ever before.
<!- mfunc search_box_body ->
<!- /mfunc search_box_body ->
<!- mfunc feat_school ->
More and more of those educators are entering the field by earning a master's degree, often after working in another area of teaching, or in an entirely different profession altogether.
Colleges designated as Educator Preparation Providers and offering Initial Teacher Preparation (ITP) programs that bring together the right combination of student teaching and coursework required for licensure are more and more often providing it at the master's level. These master's level ITP programs are becoming increasingly popular since they cater to the growing demographic of bachelor's-educated professionals looking to earn an advanced teaching degree for a career in ECE.
If this sounds like it describes you, then it's well worth putting a lot of careful consideration into where you're going to earn that master's. A thorough review of the options on this list is a great place to start.
The Best ECE Master's Programs for Initial Licensure Set the Bar High
A top ITP master's program distinguishes itself by achieving excellence in not just one, but many different elements. We combed through ITP programs across the United States to select only those that fulfilled our select criteria.
Accreditation As a Baseline for Quality Education
Our first bar is full accreditation from the Council for the Accreditation of Educator Preparation (CAEP) or one of its progenitor organizations.
NCATE (National Council for Accreditation of Teacher Education) and TEAC (Teacher Education Accreditation Council) merged in 2016 to form CAEP, the sole authority in teacher education degree program accreditation recognized by CHEA (Committee for Higher Education Accreditation) in the United States today.
The recency of this merger means that many programs are still showing their original accreditation – either TEAC or NCATE – since they are still within the pre-existing accreditation review period. Within a few years, all these former accreditations will drop off and all programs will then show up as being CAEP-accredited. In the meantime, TEAC, NCATE and CAEP accreditation is considered equivalent.
All three organizations evaluate ITP programs according to stringent academic and administrative criteria that cover goals and strategies for continuous improvement programs, instructor hiring and retention standards, relevant and up-to-date curriculum, and high standards for student teaching and practicum placements.
All three organizations evaluate programs using some variation of these criteria, and then follow up with on-site visits and ongoing checkups to ensure schools are maintaining those standards and implementing strategies for improvement.
This forms the basis for our selection process. Starting with this elite pool of accredited programs, we began the real work of reviewing and selecting the very best based on our own criteria for what makes an ECE master's program excellent.
Research and Investigations Into Essential Areas of Educational Development
Understanding developing minds and employing the latest scientific techniques is key to early childhood education, so we looked for schools that put you at the forefront of research into ECE pedagogy. Programs housed in schools with active and well-funded research centers give grad students an opportunity to work on original research projects under the guidance of experienced professors. Through observation and experimentation, you could even make discoveries that will help you develop your own theories, allowing you to shape and contribute to the field yourself .
Real World Experience and Student Teaching Opportunities
All states require some student teaching experience as part of the initial teacher preparation process, putting you in a real-world classroom with real students to take on all the real challenges that come along with that. But the best schools go beyond the bare minimum and connect students with superlative teaching opportunities that offer a range of classroom experiences in diverse settings, as well as other volunteer and practicum opportunities that add even more depth and diversity to a grad student's experiential learning. This could mean teaching students from other communities, in high needs schools, and even opportunities for international travel.
The best programs make the most of experiential learning by connecting you with experienced mentors who provide guidance and supervision while allowing you the room to learn and grow through the process so you can develop your own leadership skills.
Superb Licensure and Exam Preparation
Although state licensing standards are a lower bar than we are looking to clear with these recommendations, they're still something you are going to have to deal with on your path to becoming a kindergarten or pre-K teacher in most states. So, at a minimum, we make sure that the programs featured here have rock solid exam preparation for the tests you will have to take to achieve licensure, as well as offering the required coursework each individual state mandates for new teachers.
In-Depth Specialization Options
Although early childhood education is often considered its own track at colleges of education that also offer initial licensure programs for middle grades and secondary teachers, there are still plenty of ways to specialize as a preschool teacher. That means there are plenty of reasons to look for programs that offer a variety of well-organized, well-staffed specializations through their ECE initial teacher preparation master's programs.
For starters, special education options are becoming a big deal at all grade levels. And for ECE, special education takes on critical importance, since early intervention has such an impact on a preschooler's academic future.
But beyond that, your learning experience is impacted by other students and instructors around you, and a broad base of specializations at any program will add diversity and richness to your experience and help you become a more well-rounded educator.
The Support You Need to Achieve Your Goals
Whether it is superb research libraries, mock classrooms with the latest technology, or IT support services that can talk you through any glitch or setup for coursework that might be delivered online, we looked for schools that will have your back, offering the resources and support you need to help you succeed in your goals.
That also extends to post-graduation goals, since the right career services department can not only put you on the right path from the beginning, but also help you adjust your trajectory when needed throughout your career.
<!- mfunc search_btn -> <!- /mfunc search_btn ->
Distinguished Alumni
The accomplishments of the people who passed through the halls of your school before you can say a lot about what you can achieve yourself. Though your success is in your own hands, by looking to the distinguished alumni that came before you can get a sense of what is possible. In addition to being a source of inspiration, attending a school with a deep and diverse alumni network and graduates who have individually gone on to do great things with their careers is a clear reflection of the quality of the education they received.
That's why we give extra consideration to schools of education with graduates who have gone on to greatness, whether that means being recognized with awards, or by simply giving back to the field through research, literature or other important contributions.
Instructors Who Go the Extra Mile
None of these criteria mean very much without the right kind of instructors backing them up. A curriculum is only as good as the people who are teaching it to you—something you are intensely aware of as a future teacher in training! So we look for programs that take mentorship seriously, and hire professors who have both the research and the real-world experience to make the curriculum come alive in a way that leaves you both well-prepared and totally inspired.
Top Picks for the Best ECE Master's Programs for Initial Licensure for 2023
Every program on this list has the characteristics that anybody with the dedication it takes to go back to school for a master's in ECE would appreciate.  With a world class master's-level education from one of these schools, you'll have no trouble landing the perfect job and bringing the same kind of inspiration to the students you work with every day.
---
---
This list features programs that our editorial staff hand selected to present as top recommendations. We believe the many aspects of a program that come together to create an exceptional student experience can't be reduced to numbers alone, so no formula was used to attempt to score or rank these programs. Instead, they represent our top picks based on a thoughtful review of the things we know mean the most to students. Each one of these programs offers something unique, and all come equally highly recommended. We stand behind the principal of editorial integrity and make these recommendations independently and without compensation.